DUOTONE Windsurfing is Here!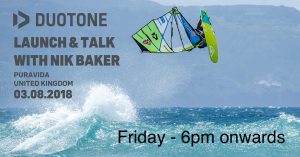 One of the most anticipated launches in years was Boards and More GMBH's change of branding from North Sails to Duotone – wait no more as it is here!
To kick things off we invite you to join us for an evening with long time brand representative Nik Baker on Friday 3rd August from 6pm in the Puravida Store. Nik is widely regarded as the best wave sailor the UK has ever produced, with 3 x Vice world championship wave titles under his belt, and now running UK distribution of Duotone, Fanatic and ION – who better to hear about the new range of kit from?! He will talk over sails like the Super Hero, Super Session, E-Type, F-Type and more, aswell as the new 2019 Freestyle and wave range of boards from Fanatic.
Nik Will be on hand to talk through the new kit aswell as answer any questions you might have for him about it, and we will also have our fleet of demo kit in store should you want to try any of it off the back of what you hear. Bring a drink or two with you, we'll supply Pizza from the excellent Tony's taste of Italy so there really is no reason not to come along!
To get the initial low down on the range, follow the link below to learn more, and swat up with any questions you might have!