Carrera 
Pro 

Freecarve 

Single
The Carrera sailing experience is a fresh one altogether, more agility and more turning torque. Yet riders familiar with the Carrera will enjoy the volume designations carried over, as well as the board's supreme build. Inspired by last season's successful smaller Freeride models the Carrera does exactly what it says, it races through turns and down the straight line alike, making it a hot new addition to the steadily growing Goya line.
Simply put, the Carrera is adding a touch more turn and drive to Freeriding, getting us hooked on windsurfing all anew. It delivers beautiful early planing performance, paired with control and ease of use when throwing down turns. The Carrera has just the power and punch as the Volar Freeride, but packaged in a slightly more agile shape inspired by our Freewave boards. The Carrera is blowing everybody's mind and gives the team a big grin every time we ride it. There used to be a time when only Race boards were built like the Carrera. And there is no other Freecarve board on the market built like it even today. We set out to create a Freecarve board with only the very best composites applied, racing composites and full carbon deck construction, bringing the ultimate speed sensation to a broader audience, a sensation that up until now only racers could experience.
A full Carbon Deck on top of full Deck, Rail and Bottom Hyper Skin HD Sandwich give this board supreme light weight and stiffness.
The Carrera offers utmost high end performance whenever and wherever you want it. It covers all bases from rough seas to lighter winds to calmer lake conditions, and in that it is just as fun to carve as it is jaw-dropping fast.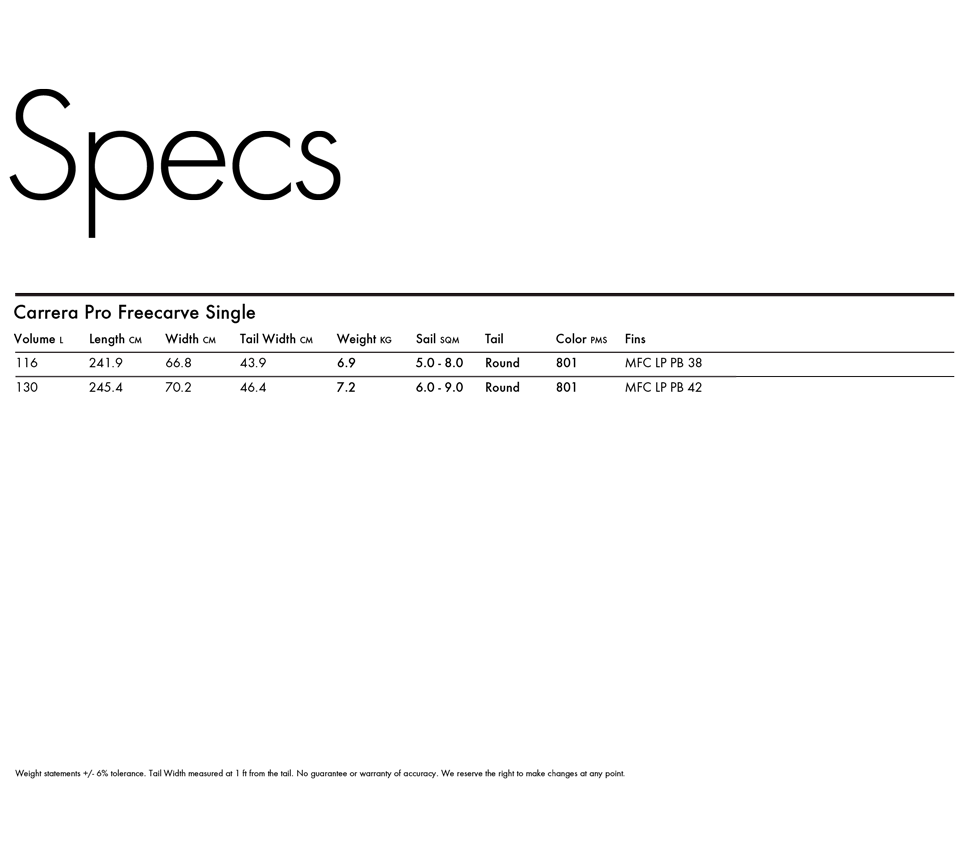 Construction
Pro 
Full Carbon Deck
Fused Cell Core. Goya boards come with a Fused Cell Core made from EPS. Fused Cell Expanded Polystyrene is a high quality, low weight, rigid, closed cell foam used in advanced modern production boardmaking.
Hyper Skin HD. The entire board is covered in Hyper Skin HD. Hyper Skin is Goya's proprietary High Density Foam Sandwich, delivering an immensely rigid structure at an extremely light weight. Covering deck, rails and bottom in it, gives Goya Pro boards their incomparable flex and longevity. A third stronger, stiffer and lighter than conventional boards.
Direct Drive Monocoque. The Direct Drive Monocoque connects your stance to the masttrack, supplying your board with the optimal ratio of stiffness to flex and distributing peak loads to the rest of the board. Additionally a triangular glass patch acts as a backbone to the core of your Freecarve, Freeride and Freerace board, making it stiff and eliminating primary distortions. It furthermore readies your board* to carry a hyrofoil. (* Bolt 115, 125, 135).
Full Carbon Deck. Biaxial Carbon is the perfect reinforcement for adding global torsional stiffness across the board. To add as much of it as possible while retaining a certain amount of desirable forgiving flex in our Freecarve, Freeride and Freerace boards we are covering the entire deck in it.
---