Naish Lift Windsurf Foil Sail
The Lift is designed to do exactly what it says on the tin! Super lightweight and easy to rig, and with a huge amount of lift they are the perfect option for the aspiring foiler in you.
2018 Naish Lift Windsurfing Foil sail
This dedicated foil design is lightweight, easy-to-handle and shaped to deliver the low-end power to quickly get you up on the foil in light wind, and yet still be luffable and easy to handle once you are foiling. The Foil features extra foot area due to the more upright rig position when flying, and a relatively short boom.
Sizes: 4.7, 5.7
3 + 1 Battens = Very responsive + luffable
Center Shape = Power + early take off
Medium Aspect Ratio = Great handling + wide range
Dacron Luff Panel = Soft leading edge for foiling control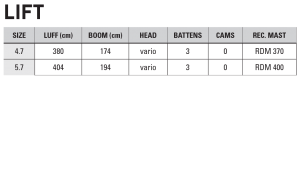 ---