Naish Micro Hover Foil Windsurf Board 2020
Designed specifically for windsurf foiling, the Naish Micro Hover 131 features a flat rocker which planes easily in light winds. Its short, parallel outline provides plenty of volume and stability for easy and stable uphaul. Complimenting its flat rocker, the bottom channel in the tail is strategically positioned to perfect the foil's angle of attack and generate just enough lift in the nose to guard against pearling.
Naish Micro Hover Foil Windsurf Board 2020
Aiming to decrease as much swing weight in a windsurf foilboard as possible, the all new Micro Hover is our shortest foilboard yet while still maintaining the necessary length and volume to get on a foil, tack and jibe. The super wide and compact outline provides an extremely stable platform that gets on a foil instantly. Once up and foiling, the board brings riders one step closer to having the board eliminated entirely and flying with just the foil. The short length and streamlined profile also gives riders more direct control of the foil for unmatched maneuverability.
As with the other models in the Hover windsurf line, the Micro Hover has options for inward footstrap setups for a more oriented feel or outward for a locked in freerace approach with larger sails up to 7.8 m2.
.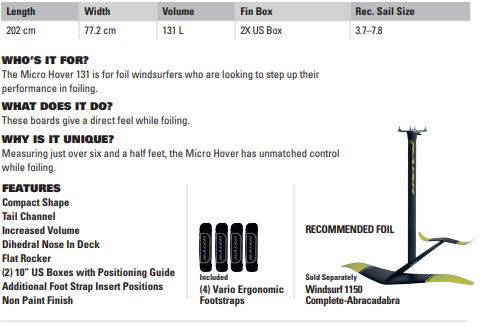 | | |
| --- | --- |
| Board Options | 131 Board Only, 131 Board and Naish Thrust Foil |
---