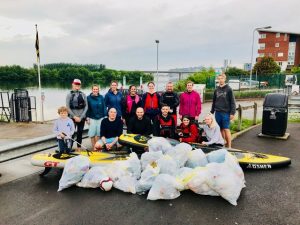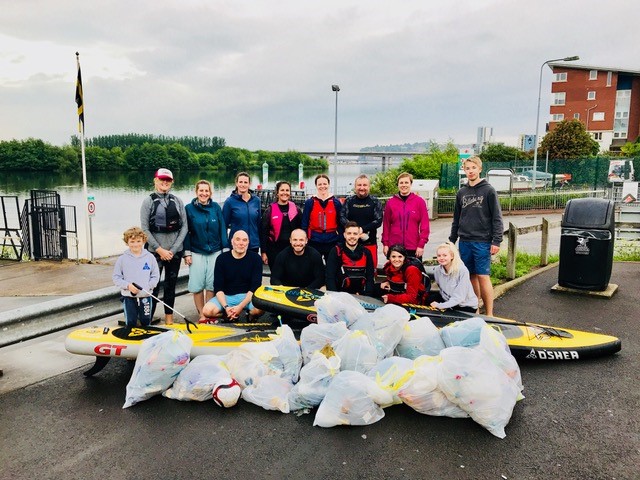 Puravida Boardriders and SUP South Wales – Turn the Tide on Plastic
With the Volvo Ocean Race currently in Cardiff, we decided to take the opportunity to team up with their Turn the Tide on Plastic Scheme, Penarth View and the SUP South Wales club to do a litter pick on the River Taff. When we turned up we were in shock by the sheer volume of rubbish in the river, with plastic bottles, balls, bike wheels, pipe cladding and all sorts of other junk.
For more Pics/videos and info on the paddle and any future events check out the following Facebook pages, and be sure to give them a follow!
Here is what El Capitan Jim had to say of the event;
"I have to say a huge thanks to everybody that supported our 'Litter Pick' on the Taff last night inspired by the Volvo Ocean Race – 'Turning the tide on plastic'! It was a great SUP South Wales Paddleboarding Club crew supported by Penarth View & Puravida Boardriders ….. another thanks to Andy, who kindly helped us take the bags away in the rowing club boat and the fantastic Harbour Authority staff at Channel View for providing the recycling facilities from there!
What stood out most was the sheer amount of disposable food containers from city centre take away's broken into pieces, and plastic drinks bottles! With the sunny weather followed by heavy rain fall theres so much rubbish in the rivers right now 🙁
Sad to see, but if we all do a little to think about single use plastic, recycling and spreading the word hopefully this will change in time!
A great night and something we will be organising again……Jim"