Air 
Pro 

Freestyle 

Single
With a new squash tail, parallel outlines, and a wider and more powerful release that invites the rider to stand further back, the geometry of the Air allows wider access to the movement and pop of the whole board.
The volume flow has increased in the tail area, supporting the landing of all planing moves. Panel V with razor sharp rails and a slight double concave though the bottom of the board for ultimate speed, committed rail loading moves and surface detachment.
The Air comes with a US Box for ultimate customization and lighter board weight. It combines the lightest and strongest lay-up available. Like anything we do it obviously employs only top of the line materials.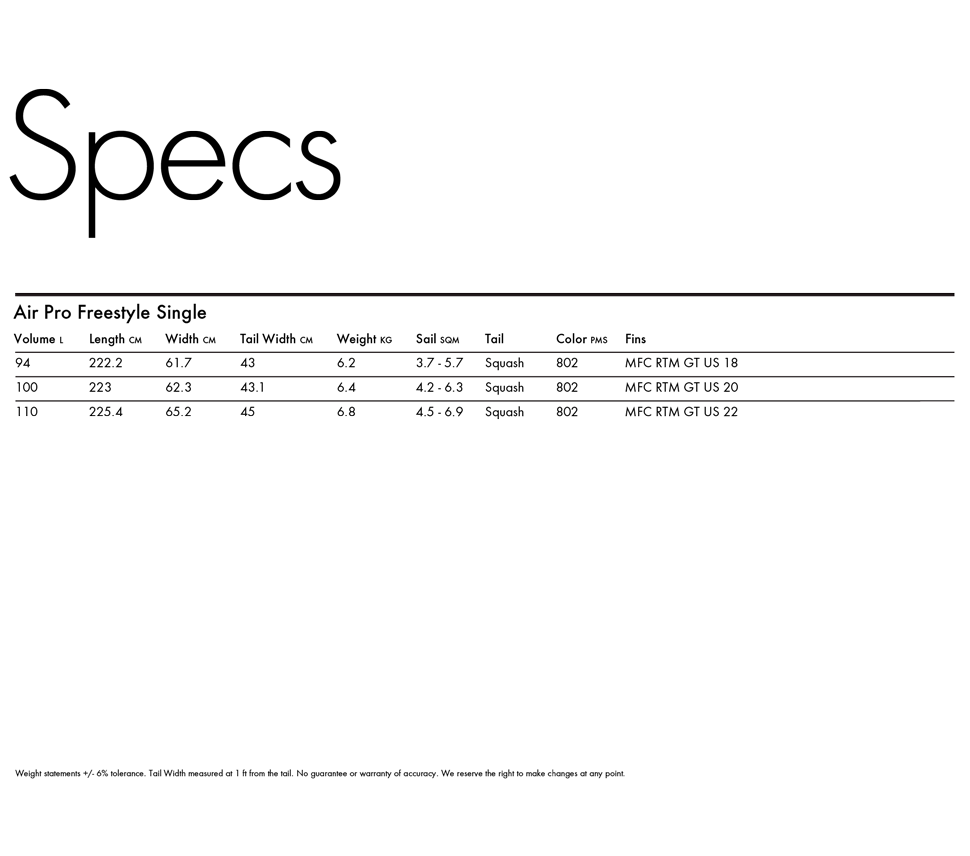 Construction
Pro 
Carbon & S-Glass
Fused Cell Core. The Goya Pro Carbon & S-Glass construction comes with a Fused Cell Core made from EPS. Fused Cell Expanded Polystyrene is a high quality, low weight, rigid, closed cell foam used in advanced modern production boardmaking.
Hyper Skin HD. The entire board is covered in Hyper Skin HD. Hyper Skin is Goya's proprietary High Density Foam Sandwich, delivering an immensely rigid structure at an extremely light weight. Covering deck, rails and bottom in it, gives Goya Pro boards their incomparable flex and longevity. A third stronger, stiffer and lighter than conventional boards.
Biaxial Carbon & Unidirectional Carbon. Extensive patches of biaxial carbon connect the peak loads of your feet to the rest of the deck, distributing the forces resulting from jumping and waveriding evenly. Additionally, a long and wide deck carbon patch acts as a superior backbone, making you board stiffer and eliminating distortions.
Full S-Glass Hull. S-Glass covers the board 360°. S-Glass provides higher strength and elasticity compared to standard glass, while maintaining more flex than Carbon. Flex is a super important secret to an outstanding Wave board. A full Carbon Wave board would be too stiff to deliver the agility required by radical modern wavesailing. We use a highest quality full S-Glass hull in combination with a highest quality Carbon stance monocoque and core axis reinforcement to meticulously control the flex in our boards. Controlling this flex is a key to what makes Goya Pro Wave boards special and inimitable.